Here's how you can gain your first 1000 Instagram followers without working hard and without spending money on it.
Are you looking for ways on how to increase your instagram followers count? Then you have come to the perfect place. That 1000 followers on your instagram account isn't that far as you think!
Here, you will learn my secret method on how to gain extra instagram followers without following anyone back and without the use of any expensive software and of course without spending money on it! This method is for users that want an extra push to their Instagram accounts. Because having huge number of instagram followers gives your account authority and feel like famous lol.
Gain your first 1k Followers 100% FREE
100% FREE
No use of any expensive software.
No need to fill any stupid surveys.
No moeny to spend!
But first, I need to warn you that this method requires extra effort but I guarantee you that your extra effort wont be in vain because you will sure to get your free instagram followers after spending those effort of yours.
The Method To Get Quick Instagram Followers
So why you did I mentioned that you need to spend your effort? Because this method requires you to gain some points or credits and use these points get your instagram followers. All you have to do is gain credits the more credits you have the more followers you will get.
Lets start shall we?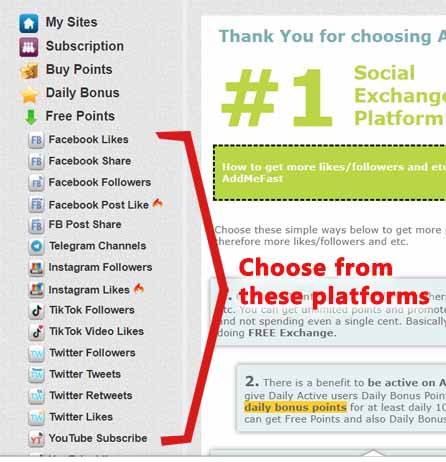 You can choose anything as long as you have an account on the particular platform. If you choose Facebook likes then this is what it looks like. See image: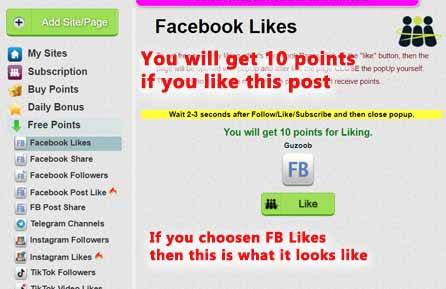 If you have choosen Facebook likes then you will need to like a post, photo or video then you will get the corresponding amount of points. On that image you will get 10 points. Not all tasks will give you 10 points. Some tasks will give you up to 25 points.
Now, that 300 points isn't too far right? You will easily get that in 10 minutes.
Gain a total of extra 200 points on the top of your 100 points you gained from just signing up using the link above.
Time to Get Your Followers
After gaining that 300 points in 10 minutes. Time to use those points and convert them to Instagram followers. How? Read more.
Click on the "Add Site/Page"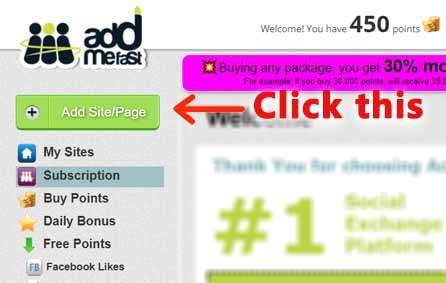 And choose "Instagram Followers
Enter your instagram username.
Choose how many followers you want to get.
Click how many followers you want to get per day. If you want to divide the followers total count. Example you want to get 30 followers in total and you only want 10 followers per day. Then put here 10. You will get a total of 30 followers in 3 days.
Now the CPC, CPC stands for Cost per click. This is the cost of each follower you will get. So if you put 10 here. That is the amount of points you will spend per followers. If you have entered 30 of total followers and the CPC is 10 you will spend 300 points to get 30 followers. You choose to lower the CPC to about 5 this is the lowest cpc set by addmefast. See image below for the example: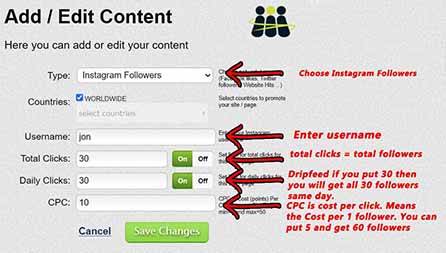 Gaining 1000 Points is not hard!
Personally, I have been using this site for 5 years now. I can easily gain 2000 points of extra time per day. Plus you will get an extra 300 points if you are active enough and earned 500 points a day.
There are even scripts that semi-automates that tasks for you. All you have to do is press that start button and the this script will automatically run and gain points for you. Now, that's another topic for another tutorial. Stay tune!